I am back to continue my Taiwan entry, even though it happened 2 mths ago. LOL.
Oh wells.
so here goes.
Day 4: Danshui Old Street 淡水老街, Xinbeitou 新北投; Thermal valley
I begin the day with a cup of bitter groud juice. OMG. This is the best juice anyone can have for detox. And, this drink is really not that bitter. The appearance scare most off, but I can assure you this is good stuff.
Favourite this. Its nt the same species at the green ones you see in Singapore.
White coloured version bitter groud are less bitter.
Bitter groud + pineapple is just, TOK GONG man. Its divine.
This is illegal drink. Singapore dont have okay.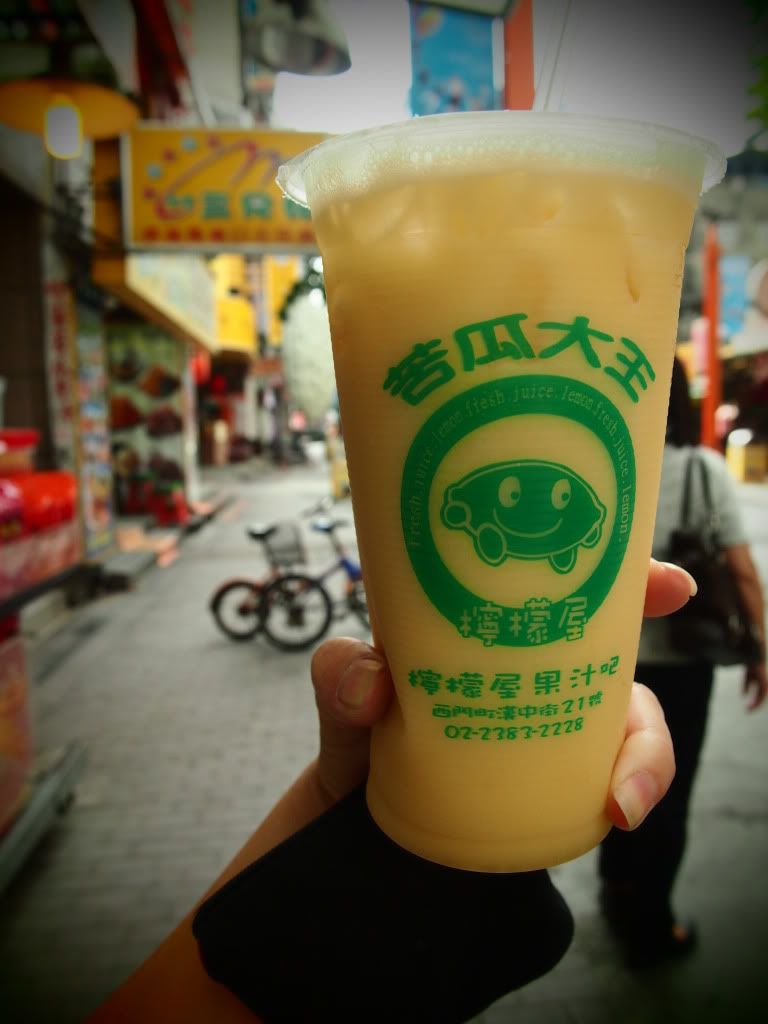 I head off and went to Danshui Old Street 淡水老街. Of which, I got a scolding from my parents for wasting their time and bringing them all the way here. LOL.
Getting There:
Danshui (Red) Line to its northern end at Danshui Station.
Food to eat:
小卷
,
淡水鱼丸
(
可口鱼丸才是老店
),
糯米肠
(
半屏店
),
阿婆的酸梅汤
,
珍珠奶茶
(
五十岚较好喝
) ,
许义鱼酥
(
味香鱼丸店
),
阿婆铁蛋
- -135 Zhongzheng Road (Old Street),
黑店排骨饭
,
沪尾豆花
,
碳考臭豆腐
,
烤鱿鱼
, Fish crisps (
魚酥
)
, Ah-Gei (
阿給
) ,
阿香烤鳥蛋
–
台北縣淡水鎮中正路
137
號前
, Swirly fresh potato chips (
黃色巨塔
)
Very easy to go. Just follow signs. No major buildings for you to look out for. The long street itself is 淡水老街.
Its basically, a long row of street on either side selling mostly food, snacks, cakes and nonsense.. LOL.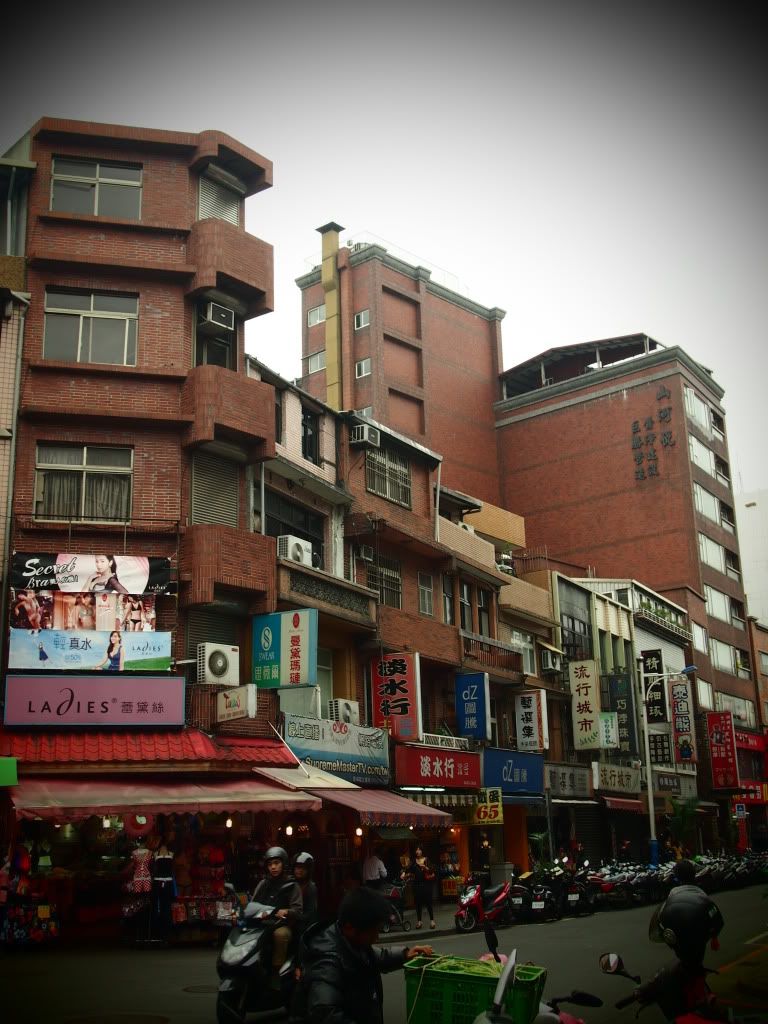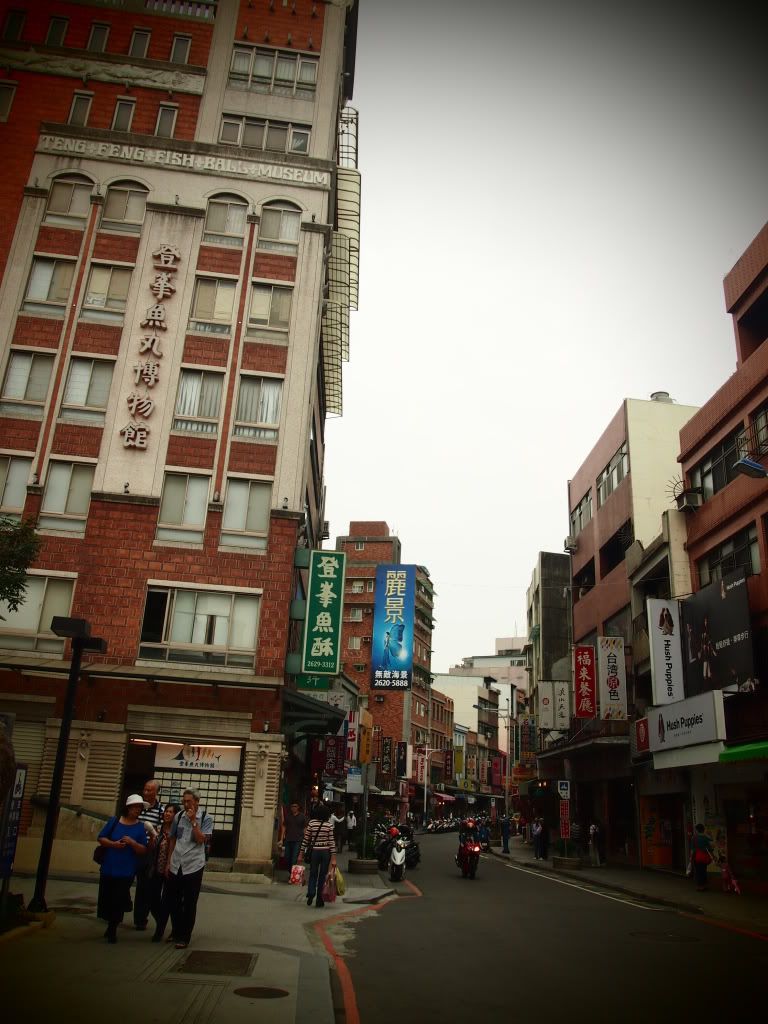 And everyone come to 淡水老街 to have this.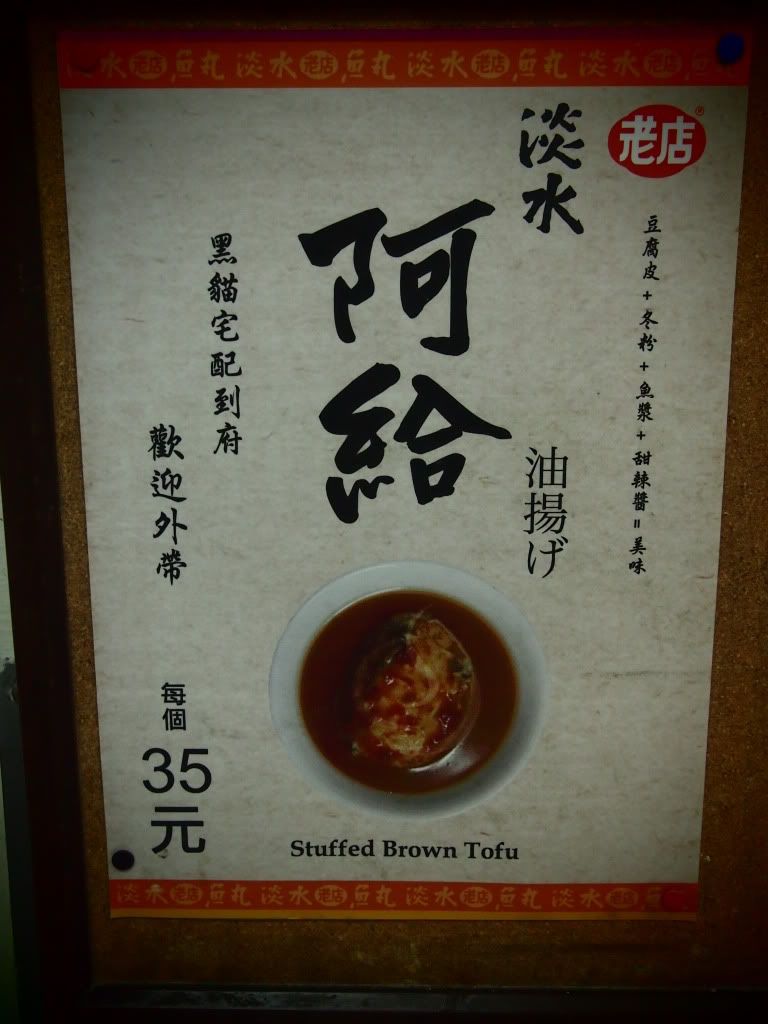 Honestly, it taste horrible. I think its the least appetizing food I had in Taiwan. LOL. I have no idea what is all the fuss with this dish. It is supposedly to be the most famous dish in Danshui. Everyone will ask you to try. But, I have alot of difficulty understanding why. Even my papa dont want to eat leh. Its that bad. LOL.
Ah Gei 阿給 is fried tofu stuffed with glass noodles in a spicy sauce and sealed with fish paste (surimi). In my most humble opinion, it taste horrible. Its awful and fishy. And it really doesnt look pleasing to the eyes anyway,
What is all the fuss abt these fishballs too? I have no idea. Mama say, "All the supposedly good reviews I found turned out to be v disappointing and I am not to trust those reviews again."
Either I/we am too picky, or Taiwan just hates me. LOL.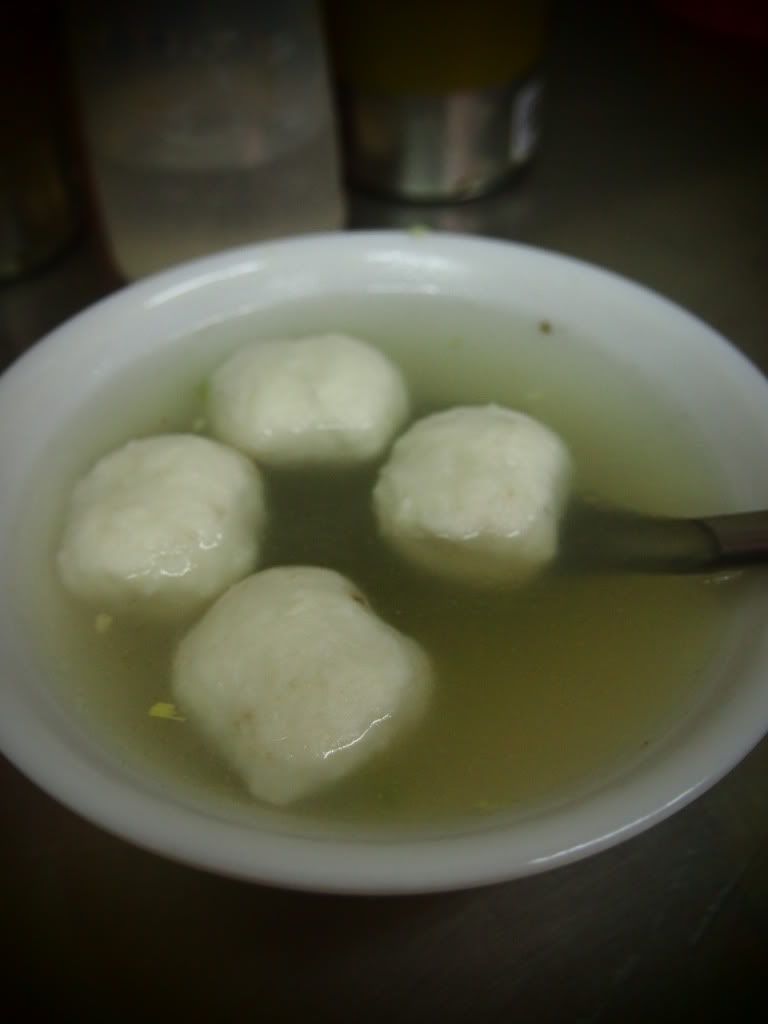 I forget what they stuff inside the fish ball alr! Its yet another awful content. LOL.
Guess what are these. They look like worms. Think again.
On a closer look.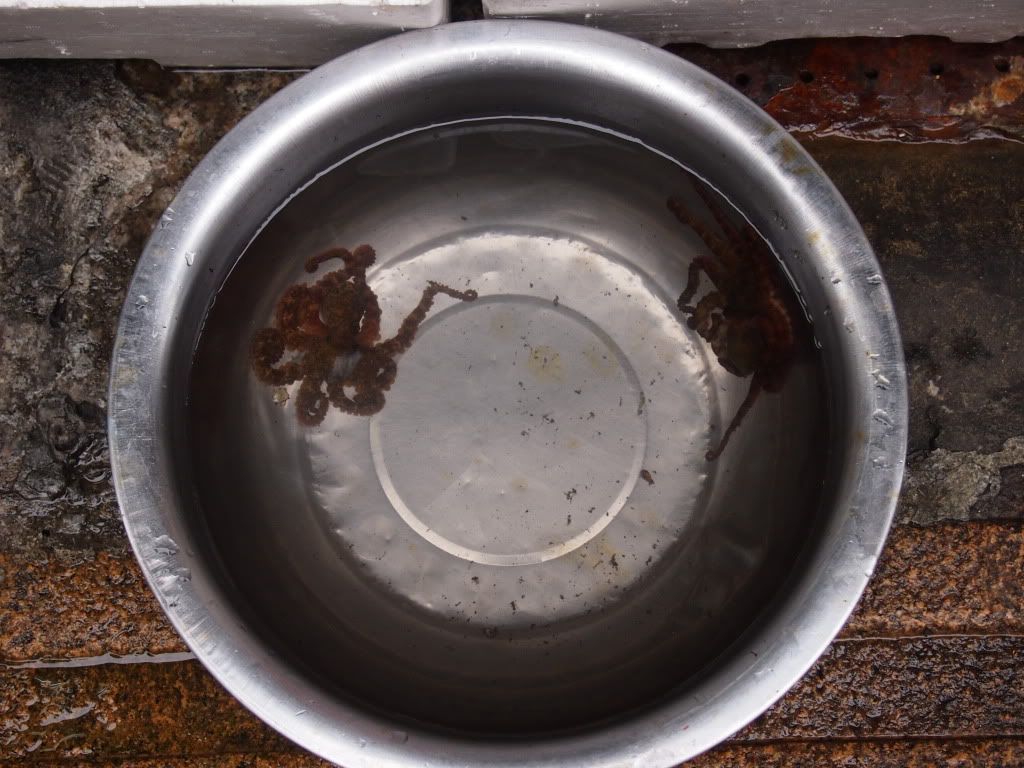 Guess whose palm are this.
I.AM.OUT.OF.MY.MIND.
As i think back, I have no idea why i let the uncle placed that 8 leg creature with a light blue brain on my palm.
I am not thinking straight. Fun for the first 10 seconds for trying sth new. When reality kicks in and all the adrenaline rush is over, I started to panic and freak out at the alien creature on my palm. I almost screamed. LOL.
WTF. My mama cant believe I actually have the courage to put that on my palm. LOL. She knows, how much I am scared of animals. Be it fury, hair, scales and blah blah. I dont even dare to touch my goldfish despite keeping them for 10 yrs okay. LOL.
Damshui is really nth much. Just to come here for the Ah Gei 阿給 and fishballs are too much of a hassle. The river is just, a river. LOL. I didnt head for the lover bridge cause my lover XX is not with me. In short, its just not worth the time and effort gg la.
The famous fish flavoured snacks are available everywhere in Taiwan anyway!
I head for my next destination Xinbeitou after that!
Getting there:
Take the subway to Beitou station and change trains to Xinbeitou station, which is just one stop away.
The v cute MTR station.
I enjoy looking at nicely decorated trains! Much nicer than Singapore's boring MRT. LOL.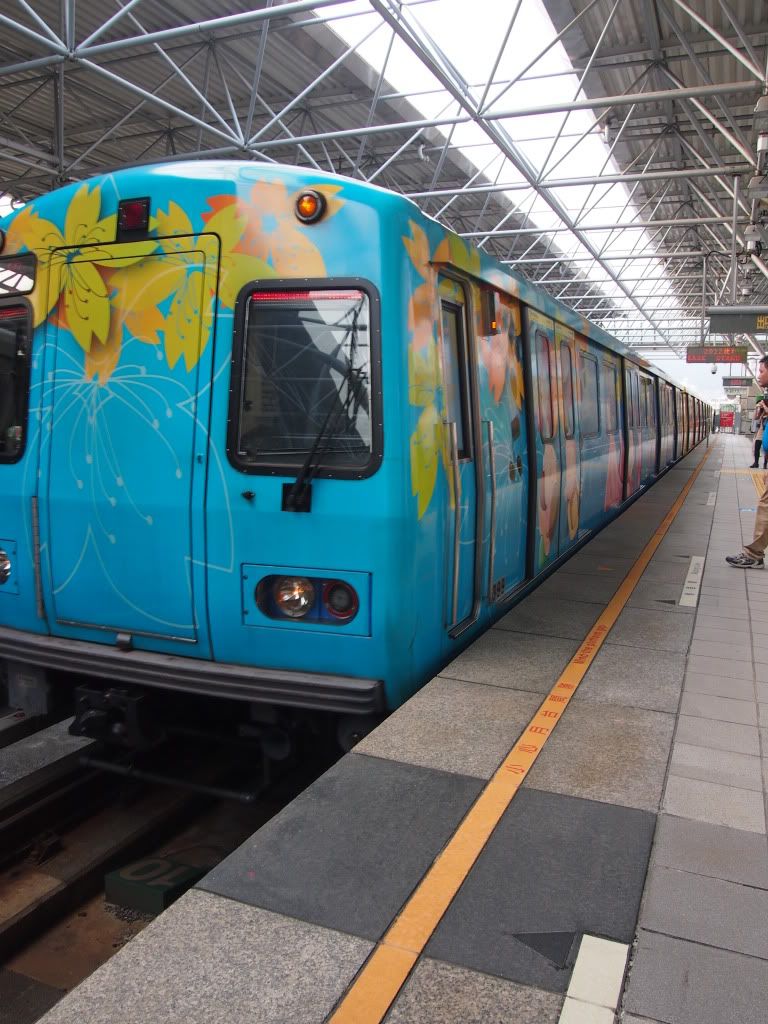 And the trains to xinbeitou are specially made w a hot spring theme.
There are interactive TV for you to play! LOL. If I didnt rmb wrongly, the interactive TV consist of maps, history for the hot springs in beitou.
To go to Thermal Valley:
Location: Zhongshan Road, Beitou district (near Beitou Park)
Opening Hours: 09:00-17:00 from Tuesday to Sunday; free entrance (close on
Mondays)
Transportation: Get off at Xinbeitou 新北投 MRT Station, walk along the Zhongshan Road next to the Beitou Park, across Beitou Hot Spring Museum, and then proceed forward about 10 minutes.
As you exit the station, cross the road and keep walking straight ahead. You will pass by a library
To the right of the path would be the Ketagalan Cultural Center, Beitou library, Beitou Hot Spring Museum, Beitou Outdoor Public Bath, and various hotels.
Ketagalan Cultural Center; Its free entry.
Beitou hot spring museum. Its free entry as well.
And then you will see the Public hot spring pool.
$2 SGD per entry.
And then, you will reach here!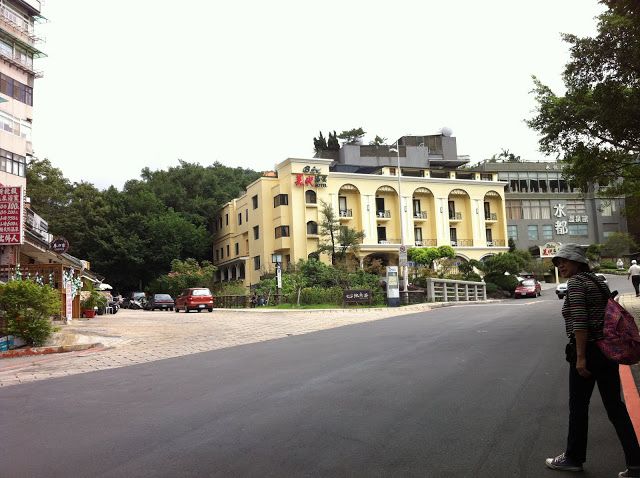 Head towards to the path beside the yellow building on the left.
And then you will reach the entrance of Thermal valley.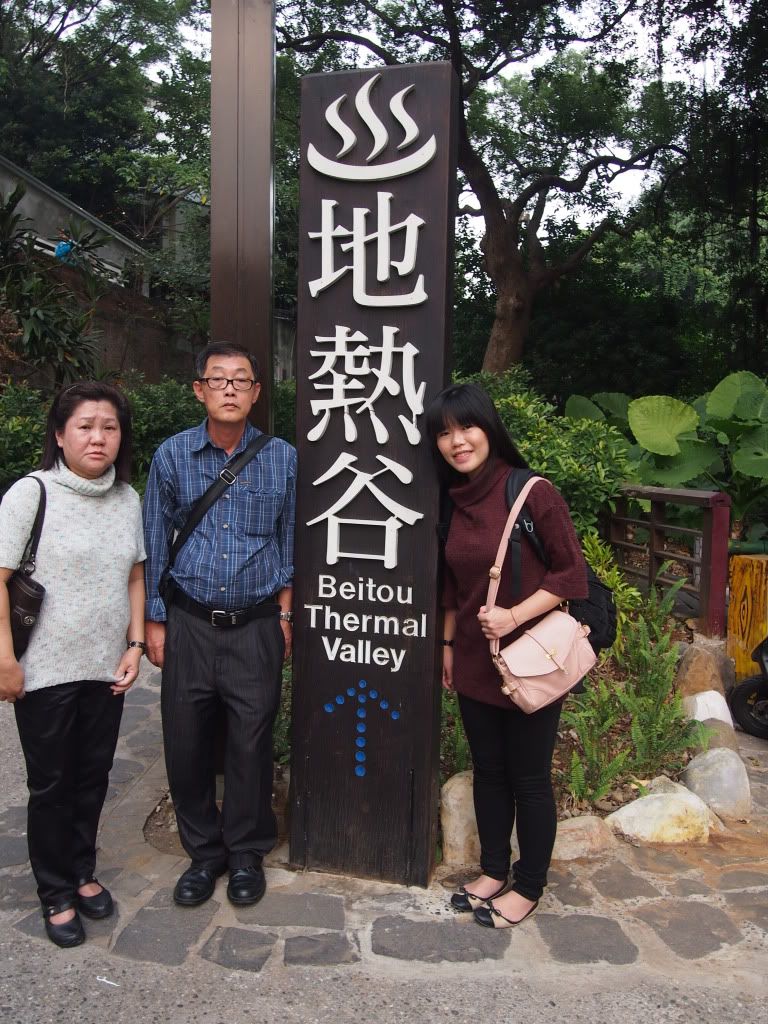 I think its worth coming here though! Even though you only see a pool of
hot spring water
with streaming coming out. LOL.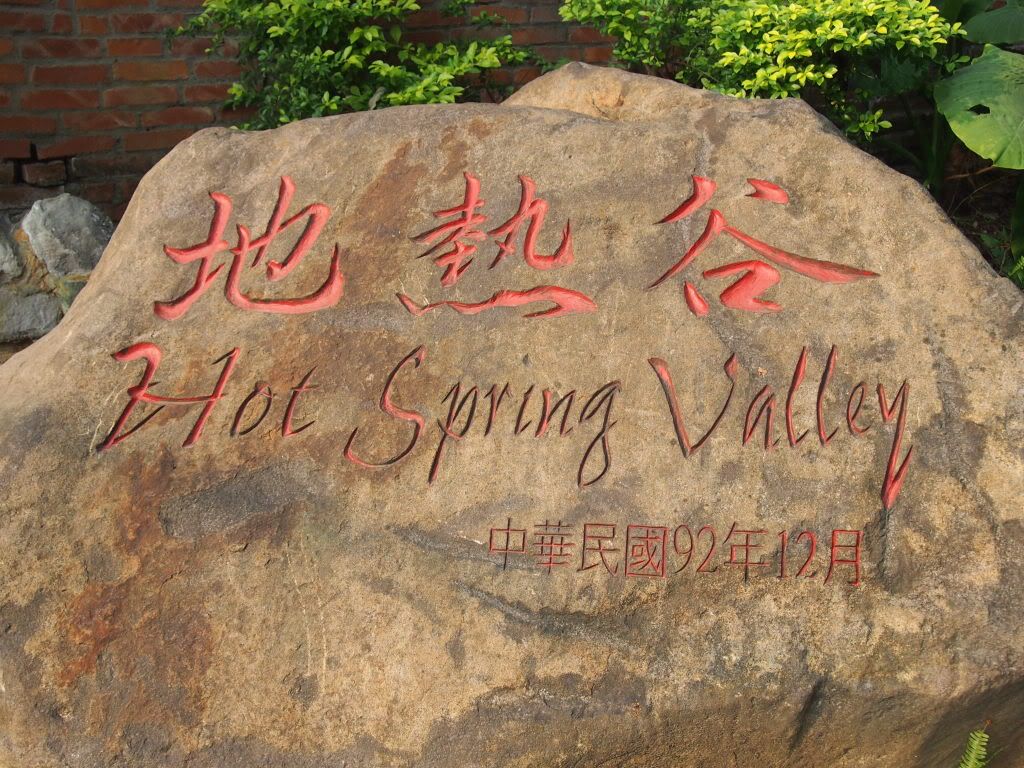 In short, Thermal valley is a place with huge clouds of steam and pungent odor of sulfur fuming from the hot spring source. Which is SMELLY. HAHAHAHA. Hi, rotten eggs.
Okay la, i admit. I am exaggerating. Its not that smelly. LOL.
There is a whole list of chemistry behind the formation of these. But, I am not interested to find out more. Although I find the entire place amazing. Its an isolated natural pond of spring water heated up by volcanic rocks from underneath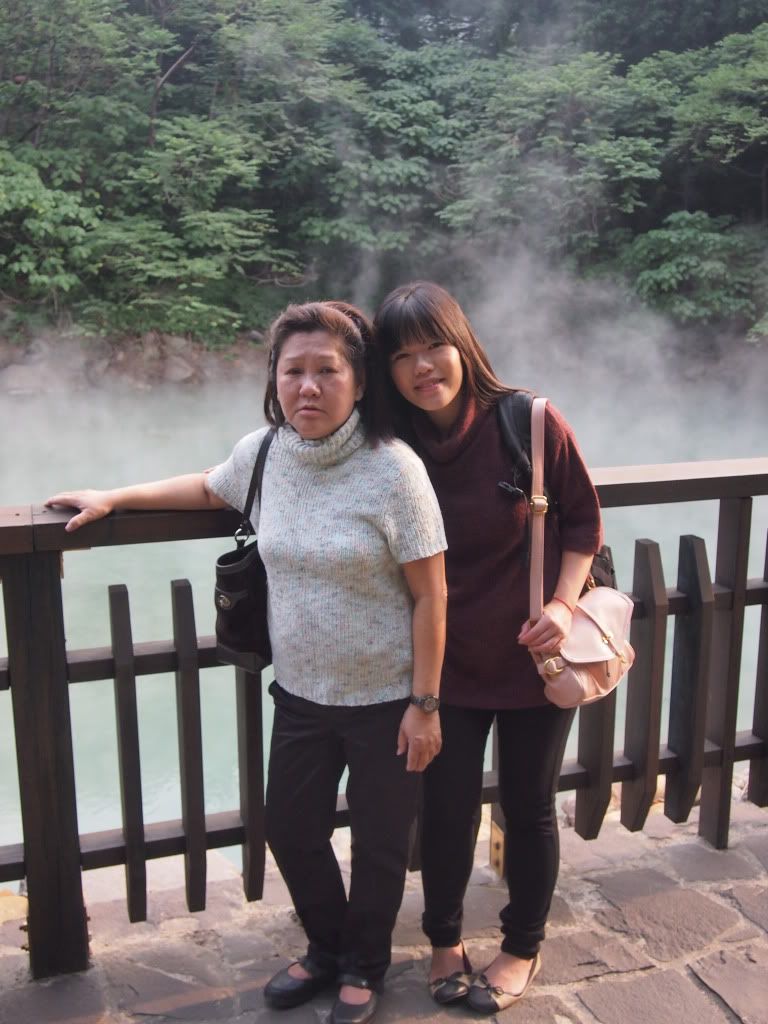 The temperature of the Thermal Valley pool is about 100 degrees Celsius. So its really quite hot. LOL. But no, the water consist of many minerals in it, so the boiling pt is not 100 degrees. Else there is no water. All stream. Only pure water boiling pt is 100 degrees Celsius. HAHAHAHA.
The Thermal Valley pool has an emerald bluish green colour and constantly producing fumesssssssss.
Dogs in Taiwan all look like toys. LOL.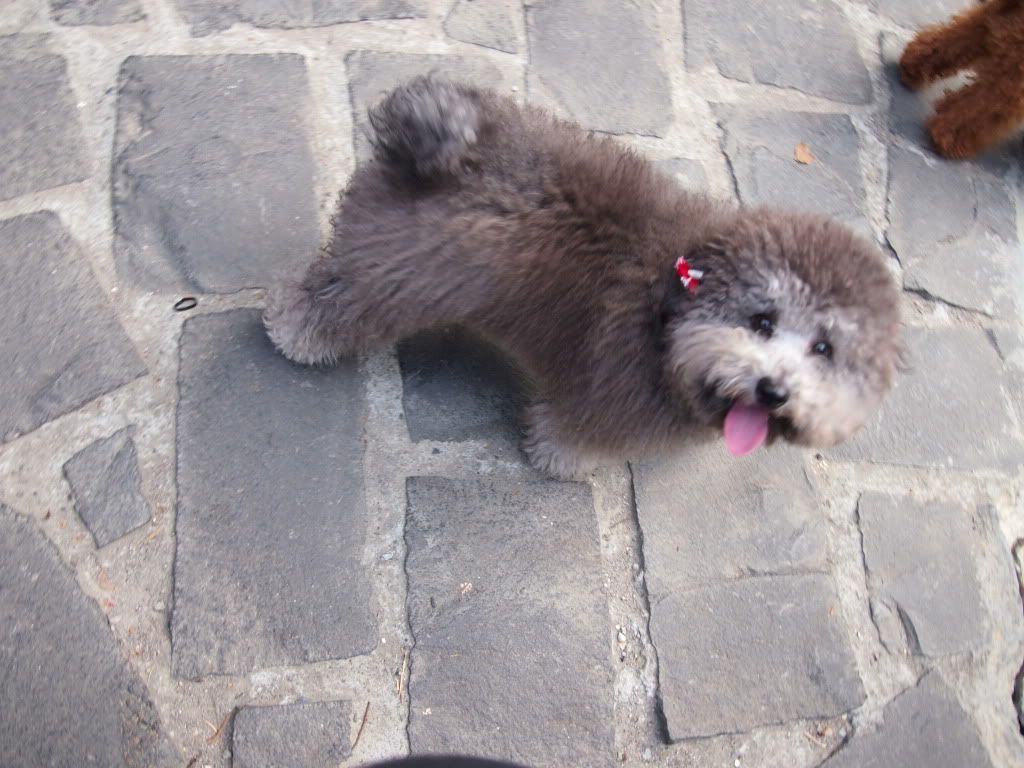 Exit the Thermal valley, you will be able to find the hot spring water from the Thermal Valley mixing with another river source of cold spring water into the Beitou River.
The result is a luke warm temperature hot spring water, perfect to soak your aching feet. The best deal of all this is, ITS FREE. And then i saw some locals sitting at some rocks nearby soaking their feet in the hot water. Just simply walk down the path, you will see some stairs leading down towards the side of the river. So, i monkey see and monkey do. My bro have no intention of gg for hot spring bath anyway.
Scalding hot at first before it turns to shiok. The perfect way to soothe your aching feet after a long day of walking.
Note: Some of the hot springs hotels in Beitou do not offer real natural hotsprings in their facilities, as some of them simply pump boiling tap water and just mix sulfur powder. They will give your alot more privacy, but usually they cost abt $50 - $100 person.
Its a give and take. (:
Well, you can only stay in hot spring for 15 mins max, full body in. Is it worth it to pay so much for it? Else, if you dont mind, you can always go for the public hot spring bath!
And then mama and I headed to Shilin night market! (Although I heard the best night market in Taipei is actually Shida. LOL.)
Location:
Around Wenlin Road (文林路) & Dadong Road (大東路)
Getting There:
MRT Danshui (Red) Line to Jiantan 剑谭 Station. The food court is located directly across the street from the station with the rest of the night market spreading out to the north. (Last MRT train leaves Jiantan station around midnight).
Food:
Hao Da Chicken Steak (
豪大大鸡排
), fried buns (
生煎包
), lemon aiyu jelly (
檸檬愛玉
), peanut candy (
花生糖
), bubble tea (
珍珠奶茶
), snow flakes crushed ice (
雪花冰
), braised stinky tofu (
紅燒臭豆腐
), Bun in a Bun (
大餅包小餅
), Mango-bin (
芒果冰
), small bun wrapped in big bun (
大餅包小餅
) & oyster omelet (
蚵仔煎
)
刀削面
,
猪肝汤
,
蚵仔煎
,
高雄肉丸
,
大饼包小饼
,
士林大香肠
,
蕃茄沾姜汁
,
东山鸭头
,
青蛙下蛋
,
炒花枝
,
红油抄手等
,
大饼包小饼
,
生炒花枝羹
,
十全排骨
,
士林青蛙下蛋
Mama is not a big eater and there is only so much food I can eat. LOL.
Ah zhong mian xian is still nicer. Probably because this stall has got oysters and i hate it.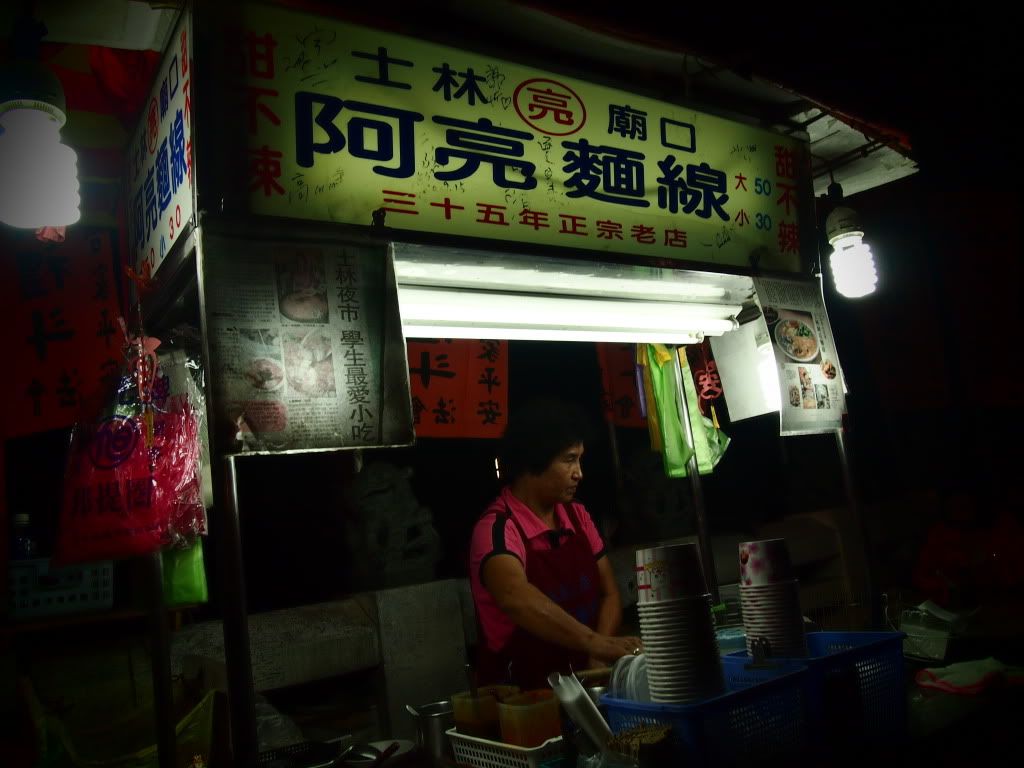 Pls do not ask them to add sugar for you okay. I hate it when vendors
secretly
add sugar just to make the drink nicer.
And its actually v easy to make papaya milkshake! LOL.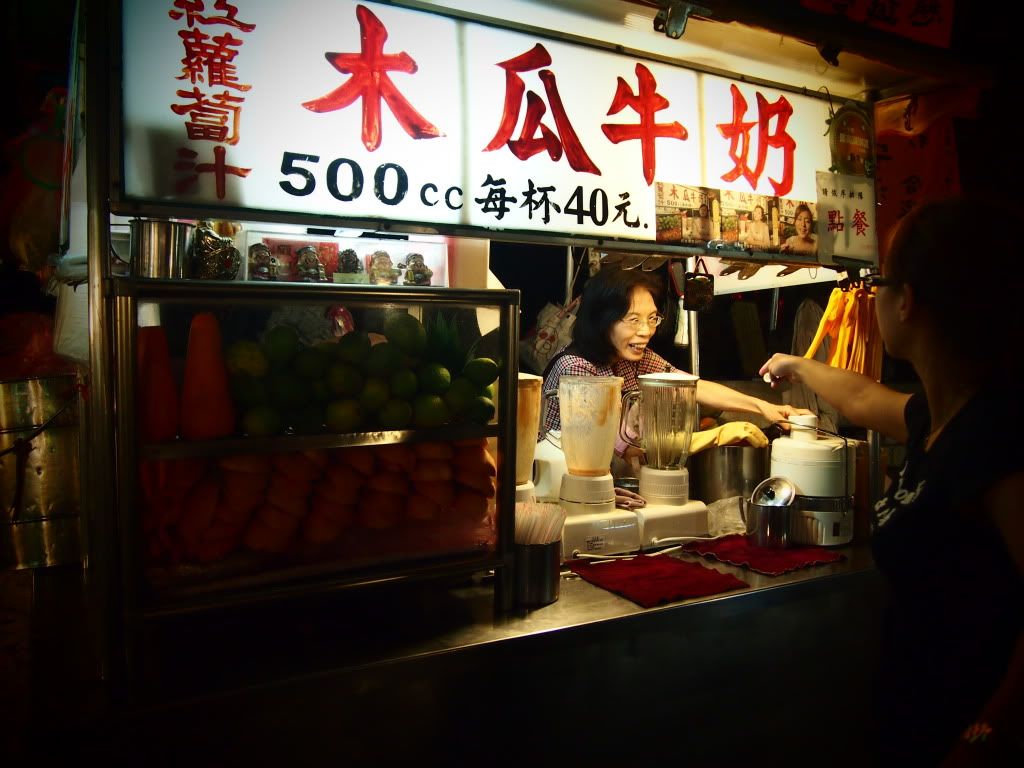 This is damn nice. Their green bean is TOK GONG man. Pls drink this.
I see ppl queue, I also queue. LOL. This is so oily and i dont like bacon at all. The moral of the story is not to be a copy cat. LOL.